Welcome back guys!

First things first. Promoting the comm. Since I took a break I think promotion would be a good idea so I've come up with something fun. Well, maybe fun. If you promote this comm, you can recieve 5 icons from yours truly. Obviously you don't have to choose to get icons but I thought it'd be a nice way to thank you for promoting carter_stills. The subject is up to you but it has to be something I've got some interest in. If I've never seen it my muse rarely cooperates. This means that no it doesn't have to be Carter related.

Now on to the challenge. I wanted to come up with something I've never even come close to doing before and could only think of one thing. The 10th Anniversary Party. Everyone was there, RDA plus BB and CB.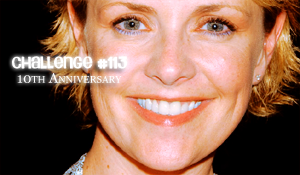 You can use any pictures from this event you want as long as Amanda is somehow included. The only restriction I'm giving you is that Olivia may not appear on your icons. I know it seems like Amanda doesn't mind having pictures of Olivia public but this is a personal preference on my part. Amanda is the celebrity not her family, thus no icons with Olivia or Alan (or any other family member) will ever be allowed.

You can find a selection of pictures here or you may use ones from your own collection.


1. You may enter up to 5 icons.
2. You may use a cap more than once.
3. Icons must meet the standard LJ requirements of 100x100 and 40kb.
4. Icons must be made specifically for this challenge.
5. Do not post the icons you made for this challenge until the challenge is over and the winners are announced.
6. Submit your icons as a comment to this entry, all comments are screened.
7. The challenge ends on Monday September 20th.